Recent Posts
Praise
"Pletcher and Bartolameolli are undisputed experts on the subject of co-sex addiction. They know more about it than anyone I know and have presented an expose that with great clarity supersedes anything I have read before."

– John Bradshaw
Description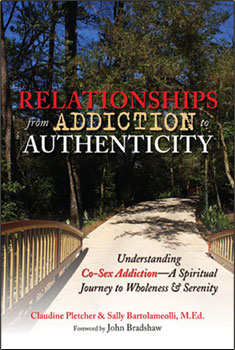 Relationships from Addiction to Authenticity is a 12-step spiritual recovery guide written by two survivors of - and experts in - co-sex addiction and is an advocate for restoring the Sacred Feminine Voice that has been muted through co-sex addiction. Sharing their own personal journeys toward renewal and the stories of other women who have tackled the diseases of sex addiction and co-sex addiction, Claudine Pletcher and Sally Bartolameolli, M.Ed., shed light on what you can do to heal the shame that binds you and offer practical advice on:
Honoring the Feminine Voice to learn to love and respect yourself
How to set boundaries, honor your intuition, and demand to be heard
How to create authentic relationships and sustain them for a lifetime
How to experience authentic intimacy and rewire tainted perceptions of sex and sexuality
How to define and transfer a new relationship model to your children and loved ones
Through partaking in this 12-step recovery process you will, once and for all, stop objectifying and betraying yourself and handing yourself over to your own or another's addiction. In the process of embracing this spiritual program, you can finally experience an authentic connection that begins from within with yourself and others.